Opportunity to acquire an a highly prospective nickel sulphide exploration project located in Northern Uganda
The North Uganda Nickel Project (the Project) is located near the regional town of Kitgum in Northern Uganda, residing ~350km north of Kampala by road.
The Project comprises chonolith hosted massive and disseminated nickel sulphide mineralisation and is host to the Akelikongo deposit (Akelikongo).
To date, approximately 11,000m of diamond drilling has been completed at Akelikongo, and three mineralised nickel sulphide lenses have been identified. The mineralisation remains open along strike to the northwest with positions identified for further drilling.
Akelikongo was discovered from a comprehensive regional mineral system review and follow-up exploration targeting nickel sulphide mineralisation at the Congo craton margin. An extensive geological, geochemical, and geophysical database is available.

Figure 1: Semi massive and net textured sulphide at the base of hybridised harzburgite at Akelikongo. The interval from 350.75 to 352.1 metres averaged 1.0% Ni and 0.28% Cu.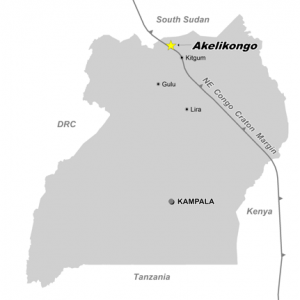 Figure 2: Akelikongo Project Location
MinesOnline.com
The Global Marketplace for Mining Projects
Register today for free, unrestricted access to all project listings, market metrics and transaction valuations.
Projects can be posted on MinesOnline.com for a 5% success fee or a negotiated upfront posting fee.